Virginia Beach Vs. Ocean City MD Real Estate: What's a Better Investment?
Recently, I read an interesting blog post that compared the difference between summer vacations in Ocean City, MD versus Virginia Beach, VA. There were valuable points! However, it inspired me to dig a little deeper...
If you're buying a vacation rental in Ocean City, MD or Virginia Beach, VA, you'll want to make sure you capture the right vacation experience, so you can maximize vacation rental income.
Virginia Beach, VA and Ocean City, MD real estate offers two different vacation experiences and their own unique characteristics. If you're going to own a vacation rental, you'll need to capture the attention of your guests and create experiences that successfully deliver an amazing stay at your property.
Our Community Now wrote a post about three similar vacation experiences offered to visitors. The three comparisons were about…
Beaches
Boardwalk
Population
Virginia Beach, VA Beaches Vs. Ocean City, MD Beaches
Both towns offer well-maintained amazing beaches. There are lifeguards on duty, beach access is free, and the sand is amazing. However, there are some differences…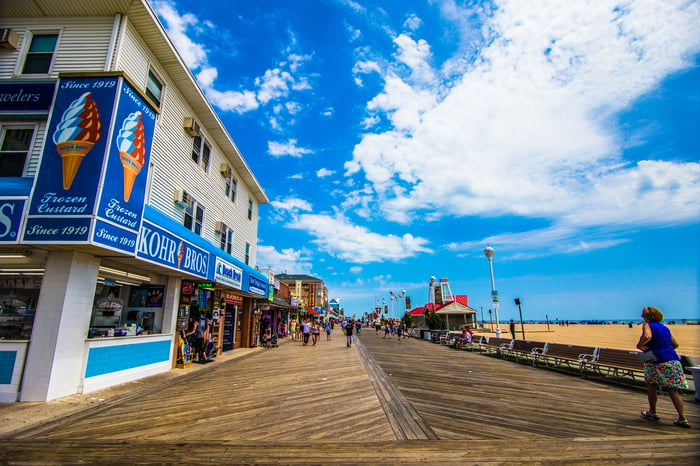 Ocean City, MD Beaches
The beaches in Ocean City are busy most weekends during the summer. However, there are beaches that are less crowded than other areas. A lot of photos you'll see of a busy Ocean City beach will be during a holiday weekend like the 4th of July or the downtown beaches.
Downtown and Boardwalk Beaches

- The Ocean City boardwalk is a prime area for Oceanfront hotels and hotels that are just a short walk away from the beach. It's a great place for families to enjoy the beach and venture to the boardwalk for snacks, games and amusements.
Mid-Town Ocean City Beaches - Mid-town Ocean City, MD is a popular area to still be close to the boardwalk, but be close to local favorite restaurants and nightlife. There's more small to mid rise condo buildings here, so the beaches can be less crowded compared to downtown.

North Ocean City Beaches

- Except for high-rise row in the low 100 streets, North Ocean City is less populated and is a popular alternative to Fenwick Island, DE beaches. North Ocean City has a narrower beach, so it's not as long of a walk to the ocean water compared to Downtown or parts of Mid-Town.
Virginia Beach, VA Beaches
Virginia Beach gets crowded in the summer, and it may not have as many tourists out on the beach. Beach access isn't as simple as Ocean City, MD. This makes it a little more difficult to easily park and carry your beach gear. Parking garages are located one, two, or three blocks from the boardwalk. Once you get to the boardwalk, you have the walk to the water.
Beaches in Virginia Beach can be a little quieter, making for a relaxing getaway, but you'll have to walk if you want to enjoy it unless you're staying in an Oceanfront Hotel or further north near the bay.
Virginia Beach, VA Boardwalk Vs. Ocean City, MD Boardwalk
When it comes to amenities, attractions, and entertainment, there are some big differences.
Ocean City, MD Boardwalk - From the inlet to 27th Street, Ocean City's boardwalk is about 2.5 miles. While the entire boardwalk is not packed with tourist entertainment, most of it offers a similar laid-back atmosphere compared to the Boardwalk in Virginia Beach.
The Ocean City Boardwalk and a few blocks off of it can make great vacation rental properties in Ocean City, MD. Downtown Ocean City, MD real estate has some great investment opportunities to consider. Plus, there are a variety of affordable options that can generate some great rental income.
The Ocean City, MD Boardwalk offers some great amenities for family and vacation entertainment:
2 Amusement parks like Trimper's and Jolly Roger's on the fishing pier
Family games
Tram service that allows you to travel from one end to the other with access at any point on the boardwalk
Various Shops
Food and snacks
Nightlife
Oceanfront hotels, Boardwalk condos
Ocean City takes pride in maintaining a boardwalk made of boards, and they do a great job keeping it looking great. There is a concrete section of the boardwalk that the tram uses to avoid visitors walking on the boardwalk on the lower streets.
You're welcome to ride your bike or rent one from the many bike rental shops and enjoy the boardwalk until noon. You can even rent a bike for a day, two days or more, if you'd like a bike for your entire vacation.
Virginia Beach, VA Boardwalk
The boardwalk in Virginia Beach is 3 miles long. You won't find many businesses on their boardwalk. You'll primarily find Oceanfront Hotels and the occasional café or restaurant. There are a few condo buildings, but your vacation rental options are limited to being away from the beach, which can make your beach vacation rental experience a little less demanding.
Entertainment is one block off the boardwalk
While their boardwalk isn't full of entertainment, one block off is. The road that runs parallel with the Boardwalk is full of restaurants, entertainment, nightlife, souvenir shops, and more. This area would be comparable to the boardwalk in Ocean City, MD.
Instead of vacationing in a home or condo, you'll still find mostly hotels. A lot of properties are within a short walk or a few blocks from the beach and boardwalk. If you own a home towards the north end, you'll have closer access and a more Outer Banks kind of feel, but still close to city amenities.
Virginia Beach Vs. Ocean City, MD Summertime and Year Round Population
One is a smaller coastal resort town and the other is a coastal suburban city with a beach.
Ocean City, MD population
Ocean City, MD is a much smaller town compared to Virginia Beach, VA. In fact, there are about 7,026 full time residents that occupy about 3,000 properties. During the summer, there could be over 300,000 people in town during a weekend. That's less than the amount of full time residents in Virginia Beach.
Ocean City, MD has over 1,500 condo buildings. There are buildings with 4 units and there are buildings with a few hundred units. The vacation rental market has a variety of options, and most within walking distance to the beach.
Alternative destination to Ocean City, MD vacations
You can't just look at Ocean City as the primary vacation destination for tourists. Ocean Pines, Berlin, and Bishopville are alternative second home and vacation rental options.
If you're considering Ocean Pines Vs. Ocean City, MD real estate, read my blog article.
In fact, Ocean Pines, MD has over 8,300 plotted lots and 12,085 full time residents and over 30,000 second home residents. Berlin, MD has about 4,566 full time residents and Bishopville, MD has 671 full time residents.
These towns make up most of our population. This does include the Delaware coastal communities like Fenwick Island, Selbyville, Bethany Beach, Dewey Beach, and Rehoboth that share in Ocean City's entertainment. Ocean City shares in the Delaware beach town entertainment too!
Year round entertainment in Ocean City, MD
Many are surprised about the amount of people that come during the off-season. The Town of Ocean City does a great job creating new events and supporting great off-season events.
In North Ocean City, MD you'll find Northside Park. This is a great summertime destination as well in the off season. Northside Park is a 98 acre park with walking trails, fishing pier, ball fields, and home to the Winterfest of Lights.
The average age in Ocean City, MD for full time residents is 56.3 making it a great location to wind down. The family friendly atmosphere and entertainment is a great factor too.
Resort towns are different from suburban towns or cities.
Virginia Beach, VA population
Virginia Beach, VA is more like a coastal city compared to a coastal resort town. In Virginia Beach there are 450,435 full time residents and the nearby city Norfolk, VA has 245,752. When you add in your vacationers, your coastal city becomes crowded.
With a median age of 36.2 in Virginia Beach, there's an attraction to a younger generation. Being a populated full time city, you'll have more to do year round. However, it may not have a getaway feel to it as a beach resort town like Ocean City, MD.
What's your favorite Summer Vacation destination?
Virginia Beach, VA or Ocean City, MD?
Comment your thoughts in the comments below!
We'd love to hear your thoughts!