24 Questions Before Hiring a Vacation Rental Management Company
If you're thinking of turning your vacation home into a vacation rental property, you're probably looking into someone to manage it for you. Do you have a rental strategy? How will you accomplish it? Self-management can have its own set of challenges, and a management plan may be something you need.
That's why I put together these 24 questions for you to ask a vacation rental management company when interviewing their services and company.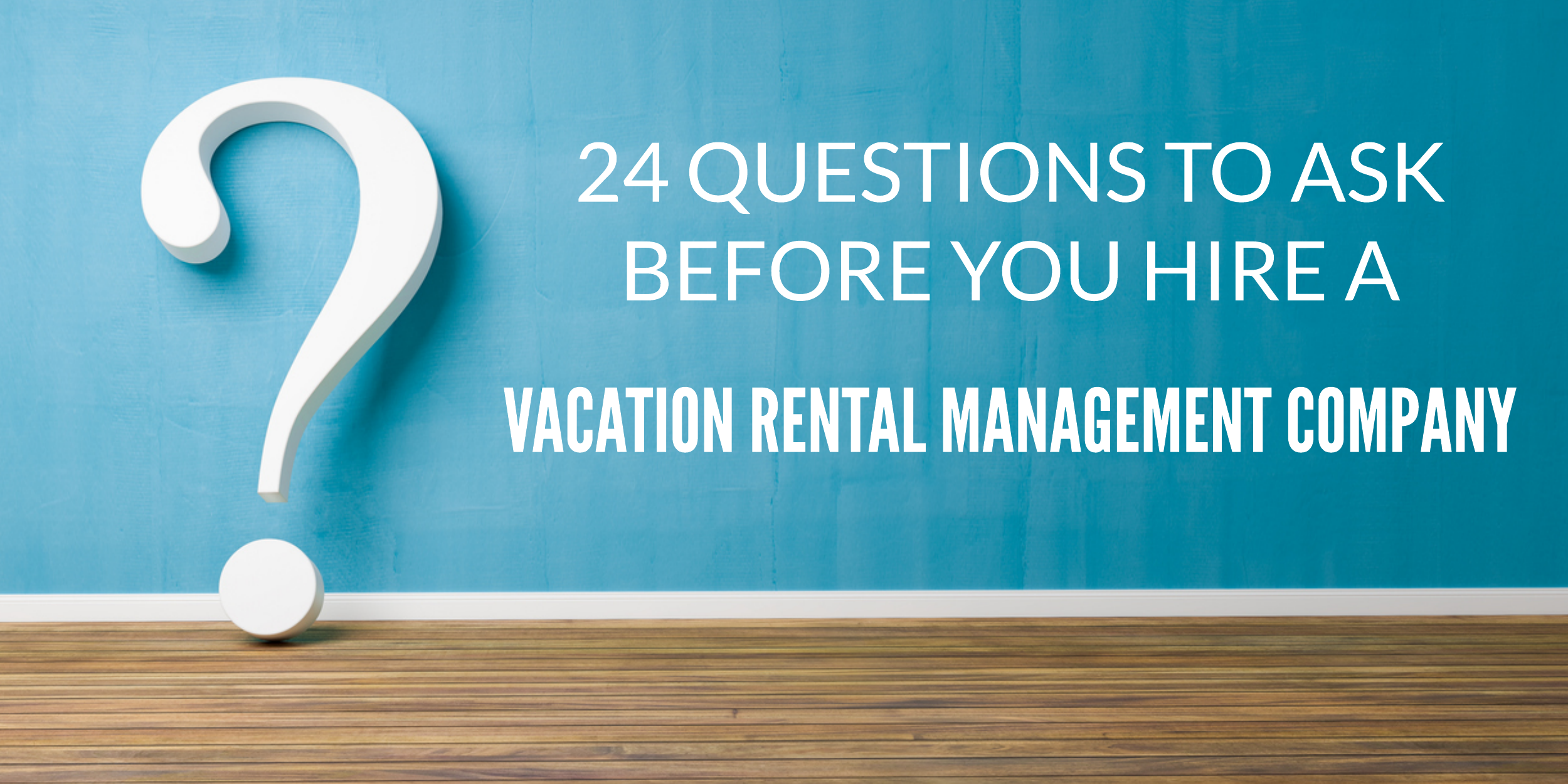 24 Questions Before You Hire

a Vacation Rental Management Company
I've listed the questions below with a brief explanation of what you could expect from a company. There are a variety of companies and services available for vacation rentals. This will give you a great starting point to start your research to turn your vacation home into a rental income source.
1.

What's the primary operating market for the vacation rental management company?

It's important to know that your management company understands the local market where they'll be managing your rental. Rental patterns of guests are different between markets, and your booking strategy needs to reflect it.
2.

What's their rental management service fee?

There's a variety of fee structures companies charge. Don't just look on the surface of the commission rate. Evaluate all the fees you're charged and add that to their commission rate.

Learn common costs related to Vacation Rentals in Ocean City, MD to Homeowners in my blog.
3.

What does the company do for their rental management service fee?

There are companies that provide only booking services for a fee and others are full service.

How involved you want to be in the management of the unit will determine the services you actually need. Full service companies typically handle the bookings, turnover, maintenance, and booking fees.
4.

Where does the company advertise your property?

Some companies are still in the past with postcards and marketing to their database. Larger local companies can have a large database.
You'll want to make sure they have the right social media strategy, website, and advertising outlets. Advertising on booking websites like VRBO, HomeAway, AirBnB, and Booking.com is a great marketing option.
There are additional fees when using this type of marketing, but guests are increasingly using these booking websites. These sites spend millions in advertising and gives your vacation rental an added marketing push.
5.

Are advertising fees charged to you?

This one explains itself. Do they charge you to advertise?
6.

Does the company have booking rate plans?

This one is market specific. Your rental rates should adjust for variety of reasons.
Just to name a few:
Rental seasons
Local events
Holidays
Weekends
Weekdays
Number of days guest stays
7.

What types of vacation rentals and/or other rentals does the company manage?

Depending on your market, there could be a variety of rental options that are the right fit. Does the company primarily handle short-term rentals or year round rentals? Do they manage multi-family units? This is important because a company that doesn't primarily focus on rentals that fit the uniqueness of your vacation home may not fit your rental income goals.
8.

What's the season length for your property?

This is definitely another question that explains itself. Don't be surprised that some markets can have multiple rental seasons. Even if you thing think a beach resort market can only be rented in the summer. Some areas have unique opportunities to go outside the peak rental season to target off market bookings.
9.

What's the estimated occupancy rate for your property?

Not all companies can give you this. This requires a lot of data and while it's helpful, it's not always accurate. If a company is heavy in a market and understands the booking trends, a proposed marketing plan and booking strategy should give you an idea of the potential for your vacation home.
10.

What's the annual gross rental income estimate for your property?

You should be able to get a range of what your vacation home will be able to target. When your rental hits the market will also have an affect on your rental income estimates. The more time a company has to get bookings, the more aggressive they can be with rates, and different incentives can be offered. You'll be able to test market caps for your vacation rental. You should also get multi year projects. Often, rental properties can increase booking rates year after year until you find your market cap. Over time your rental property will generate value to guests, that value is leveraged for higher nightly or weekly rates.
11.

Does the company give suggestions for improvements to make your property a more desirable rental?

The nicer your vacation home looks the more value you're offering to a guest. Chances are your vacation rental may be competing with a major hotel. Major hotel brands can offer luxury stays, but smaller rooms for more money. A well-staged vacation rental can have the ability to book for a higher nightly premium.
12.

How are booking and service reports shared for your property?

You want to get updates on the status of your bookings and income for your vacation rental property. Find out how the company is going to update you. If they are managing maintenance too, how will you get updated about your maintenance expenses?
13.

How and when do you receive rental income?

You not only need to know how you get paid, but when you'll get it. It's common for you to only receive income after the guests stay.
14.

Who pays the sales tax?

You'll want to check with your local government office to see if you'll get charged a sales tax for your rental income. It may be possible for you to charge this to the guest as an additional fee.
15.

Are there any other taxes (and who pays them)?

Some areas have additional taxes or fees charged by a city, town, county, or state office. For example, if you book in the town of Ocean City, Maryland, you'll get charged a room tax. It's possible to pass additional fees to your guest. In some areas, it may not be a best practice, but your local vacation rental company should know if it's a good idea to charge additional fees to the guest.
16.

Who pays the cleaning fee?

If you are responsible for the cleaning fee of your vacation home, you should factor the expense into the companies' commission rate. If it costs you $100 a cleaning for 16 stays (as an example), you're charged another $1,600. If you earn $20,000, you're paying another 8% of your income. This could be a fee you can pass to your guest.
17.

How do they turn over properties?

A company may have an office in town for guests to visit to check in and out or offer a personalized turnover service. The check in and check out process is a valuable part of your guests' vacation experience. It gives your guest their first impression for the stay and a lasting impression when they leave.
18.

Does the company use automation (keys, check in, cameras, air conditioning, etc.)?

Technology helped advance our services and automation can provide guests an easy turnover experience. You may be able to get recommendations to incorporate different tech tools into your management plan.
19.

How are linens and towels handled?

This service could be a service that is discussed on how you want it handled and if there's an added expense. Some owners prefer for a guest to bring their own linens and others want it to be provided. It's possible for a rental company to have a linen service or give you recommendations.
20.

Are toiletries refreshed (and what is provided)?

It adds benefits to your guest experience to provide toiletries but it's not necessary. If it's not provided, it needs to be shared with the guest.
21.

Is insurance offered per stay?

More often, management companies are proposing insurance for guests to purchase for their stay. It's a smart option, and can help enforce guests to not damage the unit. It's a good quality control component.
22.

Does the company manage repairs to your property?

In the event something needs to be fixed, does the management company handle the repair? You also want to know how you're charged and what level does the company have the authority to order a repair service and/or charge you for it.
23.

Does the company offer a winterize service?

At the end of the season if you don't plan to use the unit in the winter, does the company handle winterizing it. This is a service that is often turned over to the owner.
24.

Does the company offer landscaping service?

If you have a vacation rental property that requires upkeep of the grounds, you'll want to know this. If your vacation rental is in a community with an HOA or condo association, the association may handle it as part of your association fees.

If you're looking to rent your vacation home, you want to research your local market. Even if you think you understand the ins and outs of the vacation rental season, you should still continue to further your research.

If you don't know, ask questions. There's no such thing as a stupid question; only stupid answers.