Buying a Condo? 3 Extra Expenses Everyone Needs to Know!
When you buy a condo, your financial responsibilities are not limited to your mortgage and real estate taxes. In addition to figuring out how much mortgage you can afford, you need to figure out how much you can afford with the extra condo related fees.
What to Expect When Buying a Condo?
3 Extra Expenses with Condo Ownership!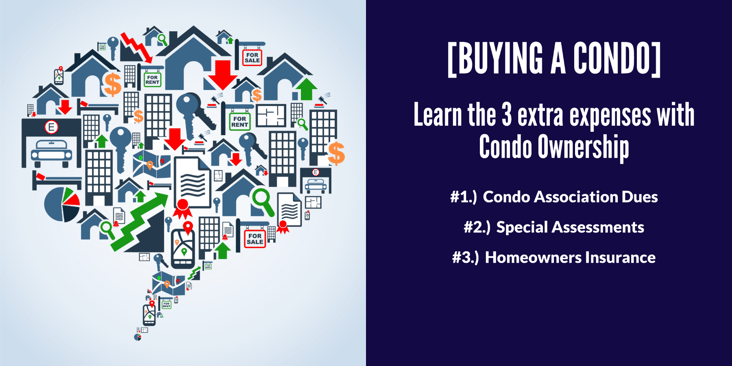 #1.) Monthly Condo Association Dues
In addition to your monthly mortgage payment, you'll pay monthly condo association dues. These dues cover your portion of the maintenance and administration of the common elements of the condo building. Everything that is not contained within the walls of your unit is considered a common element.
Depending on your association, there are a number of items that may be covered by your monthly dues.
These include common area:
Utilities
Insurance
Interior and exterior building maintenance
Management fees
Accounting expenses
Any other expenses required for the maintenance and administration of your association
Condo reserves fund
A portion of your monthly dues will also be allocated to a reserves fund in order to put money aside for major maintenance and repair projects that occur frequently – but carry hefty price tags.
Learn the 5 Common Reasons Buying a Condo May Fail Due to the Condo Association in my blog, which covers limited reserve funds.
How condo ownership is calculated?
Your monthly dues may be calculated by your condo ownership interest in the association or by square footage. The association's governing documents and budget will detail how your dues are calculated.
#2.) Special Assessment Expenses
If your building requires major repairs and the condo association has not built up enough funds in the reserve account to cover the expense, a special assessment may be required.
Depending on how the Board decides to handle the expense, the funds may be financed and the monthly repayment amount added to your monthly dues based on your proportionate share – or the funds may be required in a lump sum payment due at once or over a period of time.
What to be aware of with special assessments?
Be aware that you will almost inevitably be charged with a special assessment in some form over the course of your condo ownership. This is especially true if the condo association has not been well managed.
#3.) Homeowner's Insurance
Insurance for the Association, which includes property, general liability and Directors & Officers liability coverage, is included in your monthly dues. The Association policy, generally, will not cover anything within your unit from the paint inward.
You'll need to obtain a homeowners insurance policy to cover:
Personal property
Alterations
Appliances
Fixtures and improvements
Personal liability
Know how much condo you can afford!
It is extremely important for buyers to consider all of their financial obligations when buying a condo. Inspecting the financial health of the association is vital - and should be done before buying a condo.
A financially sound association will mean fewer unexpected charges to the condo owner and will enhance the value of their real estate investment. If you're thinking about buying a condo, and the association is not financially sound, it could affect your mortgage.
Curious about how much mortgage you can afford? Read my blog article, How much mortgage can I afford (with a payment of $1,200), which shares helpful resources and tips.