Why Automated Valuation Models Are Poor Home Value Tools?
When researching real estate and homes for sale, you spend a lot of time looking at pictures, planning the right location, and looking at similar properties. Many buyers look at home value estimates to make their decisions. Are you familiar with an Automated Valuation Model, AVM for short? Most likely your answer would be yes, but not by its official name. The most popular AVM is the Zillow Zestimate®.
These property value estimates poorly educate buyers and often create the wrong negotiation leverage. If you want your home search to be the most beneficial, you need to know why an AVM is a tool you should consider lightly.
What is an Automated Valuation Model?
An automated valuation model, or AVM, is a tool that provides property value estimates using a mathematical algorithm combined with a database of property details. Most AVMs calculate property values using specific data points such as number of bedrooms, bathrooms, square footage, past sales, tax and tax assessed values of comparable properties.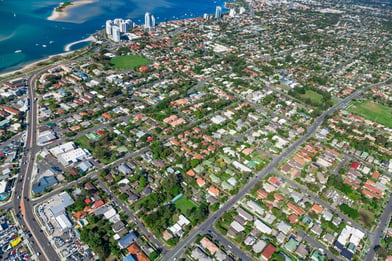 AVMs are only estimates. Zillow discloses that their Zestimate® is a "starting point in determining a home's value and is not an official appraisal". "The Zestimate is calculated from public and user-submitted data, taking into account special features, location, and market conditions" as disclosed on Zillow.com.
The Problem with Data Driven Home Value Estimates
When determining property value, data alone can inaccurately generate an estimate. Data driven models do not use critical specific features such as interior condition and upgrades. Location may be a factor, but not always the best comparable location. Sometimes, AVMs will compare properties within the same zip code, and may not narrow down the comparison of properties that are closer to one another within a zip code.
I'll give you an example from a recent short sale property in Ocean City, MD, which the seller's lender used an AVM to counter the buyers offer. In this situation, the seller was selling a condo in an Oceanfront condo building. This particular condo building has direct oceanfront units and units with ocean views, which are two completely different units.
The short sale lender determined the value of the sellers "ocean view" unit was $80,000 higher than the buyers offer. The lender only used direct ocean front comparable units within the condo building. The AVM did not use ocean view comparables and did not correctly evaluate the impact that the condo location within the building has on the value. Direct Oceanfront condos were selling around $380,000 whereas ocean view units were selling around $300,000.
Local Professional Opinions Vs Automated Valuation Models
AVMs do not look specifically at key features that could sway a property value. Without having a professional specifically adjusting the data, the value is relying on data that may or may not be accurate.
When a professional provides an opinion for a property value, they'll make adjustments based on upgrades, features, and location. They'll also know which nearby properties should be used when valuing the home.
For example: When determining a listing price for my seller clients, or researching comparables before my buyer client makes an offer, I may preview comparable listings on the market to visualize the adjustments that may be used to create a potential list price. Also, continually viewing properties helps me stay up to date on listings and pricing. I'll also study local statistical data. Statistical trends helps me stay informed about my market and how trends may affect home values.
Best practices for your home value estimates
It's important to understand that when any professional provides a property value estimate it is based on a professional opinion. Whether a real estate agent or an appraiser provides a value, it's an opinion. AVMs don't have an opinion, only a command to analyze specific data points.
Data is important. Appraisers rely heavily on statistical data to help them properly adjust comparable properties. But, appraisers don't specifically rely on data. Their experience in a local market is critical. Often, out of area appraisers are not as familiar with local trends and comparing proper properties.
Another alternative is to contact a local real estate agent, like me, Michael Nolen. When you contact me, I'll sit down with you and explain your options for selling your home, or help you prepare for buying a home. I pride myself on being research oriented, not just for researching home value estimates, but on every aspect of the transaction.
Buy or sell real estate? Learn your options.