5 Quick Tips for Buying Ocean City, MD Real Estate on a Budget
Let's look at a hypothetical: You've been vacationing in Ocean City, MD for the past few years. You've created a list of your favorite places to eat, relax, and spend time with friends and family. Instead of staying at a hotel, you decided to stay in an Ocean City vacation rental. During your stay, you imaged owning real estate in Ocean City, MD. The dream of owning a beach house or condo gets exciting. Its typical conversation you're having with your friends, family, or loved ones.
You've started thinking about your options. Now, you're ready to create a plan. In this post, I'll share 5 Quick Tips for creating a plan for buying Ocean City, MD real estate on a budget.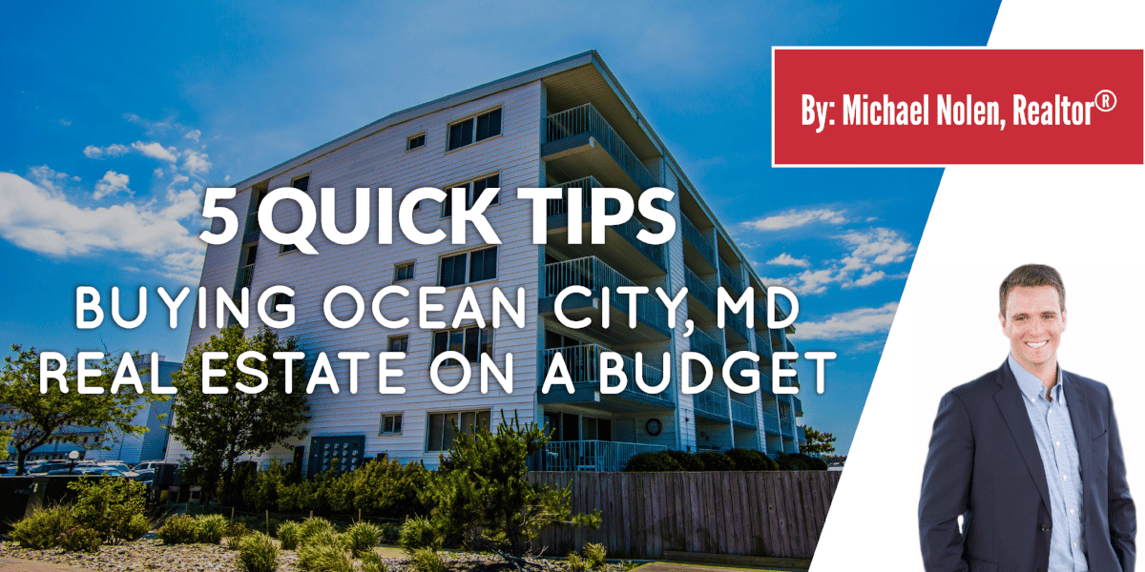 Quick Tip #1:

Why Do You Want to Buy Ocean City, MD Real Estate?
Whether you are searching for a rental property, second home, retirement home or getaway at the beach, Ocean City, MD has a variety of opportunities. Whatever the reason, you'll want to create a wish list.
Depending on your budget and type of home you are searching for, you'll need to carefully locate homes and condos for sale in Ocean City, MD. Sometimes the dream of buying an Oceanfront Condo for Sale may need to wait if it's outside of your budget and you're unable to get a condo on your wish list.
As an alternative, you may be able to get buy an Ocean block condo for sale. You could still get ocean views, and be a short distance to the beach. After a few years, you could sell your condo, and upgrade to an oceanfront condo. Interior features could be altered. If the kitchen is outdated, but functional, it could be a better bargain to renovate later for a more profitable return when selling.
Quick Links to help you find a deal on your budget:
Check out my blog article: 11 Questions You Should Ask When Buying Ocean City, MD Real Estate
Quick Tip #2:

Outline Your Monthly Household Budget
Before the collapse of the US housing marketing, many buyers failed to look at all of their household expenses. When applying for a mortgage loan, lenders typically look at only your credit debts and income to determine how much mortgage you can afford. Realistically, understanding your household expenses is part of your responsibility of homeownership.
When it comes to owning Ocean City, MD real estate, you're most likely buying a second home or investment property. You'll need to consider all of your necessary monthly expenses on your primary property and your future second home.
So we're clear, I refer to "necessary monthly expenses" as all expenses that make your household stable.
For example: Groceries, Utilities, HOA, Travel, Health Insurance, Car Insurance, Credit Card Payments, Car Payments, Loans, etc.
I've provided a free best practices guide in this blog that includes a monthly budget worksheet to help you start outlining your expenses.
Quick Tip #3:

Understanding Condo Association Dues
Most of the properties in Ocean City have condo association dues. These dues cover the cost of the common elements of the building. Every condo building has a different condo association fee, and covers different common elements of the building.
If you're looking to buy a condo with a pool, you could pay more to own in one building compared to another. But, it could also be the reverse. There are some condo buildings without pools where the condo dues are more than a comparable building with a pool.
Understanding and assessing the condo association dues will help in deciding which properties are the most affordable.
Quick Tip #4:

Determine How Much Mortgage You Can Afford
This quick tip collaborates with both Quick Tip #2 and Quick Tip #3. Before you begin a home tour with an Ocean City, MD Realtor®, you'll need to speak with a mortgage lender that understands condo financing. Ocean City real estate is more unique and financing difficulties can arise if your lender doesn't lender in a particular building.
Not only will you need to balance a mortgage payment, you'll need to take into consideration condo association dues, and your expenses from your primary residence.
Let's say you found a condo that you may want to buy. The annual condo association dues are $4,000. If you break it down to a monthly payment, you're paying an additional $333.33 a month. This could limit your buying power, or how much you'll be able to afford to buy.
Sometimes, the condo association dues limit how much you can afford, which could require you to alter your wish list. It's not always a bad thing. Often, buyers start with a smaller condo, and set a plan to upgrade in the future.
Quick Tip #5:

Creating a Plan
Locating the right property isn't always an easy task. It takes some creativity and experience, which you won't get from the Internet. While all of these quick tips are definitely something you should take into consideration, working with someone that's experienced in this market is beneficial to you successfully finding your dream beach place.
You don't want to waste time navigating the Internet looking at properties you may never actually want to pursue. It's been said, pictures are worth a thousand words. Sometimes, listing pictures don't share the best image of what a property has to offer.
Real estate isn't something that's an impulse buy. It takes time to properly research homes and condos for sale in Ocean City, MD, so you find the right beach place. Spending some time reviewing available properties, and creating a plan with a local Ocean City, MD Realtor® is one of the most critical steps in the buying process.